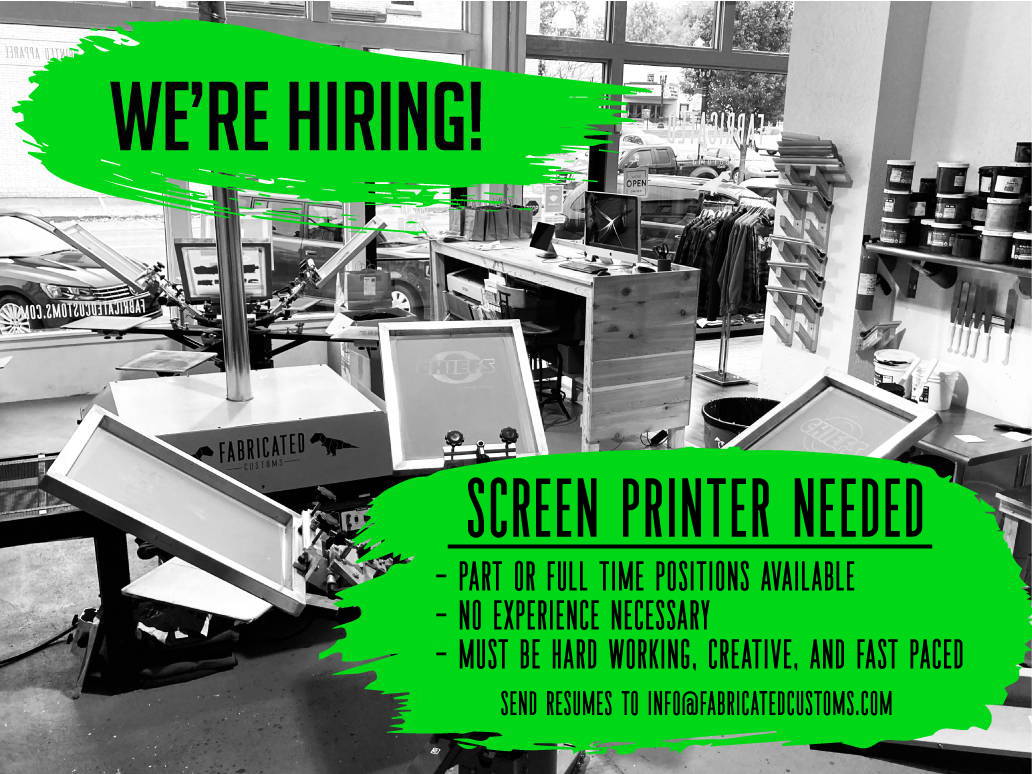 Looking for a screen printer!
We've grown so much we are literally buried in t-shirts! We are looking to add a Screen Printer to our crew. No experience necessary! If you are creative, hard working, and want to be part of fast paced business please apply!

Job Description: Screen Printer
The Screen Printer position is responsible for decorating apparel and managing the overall production process of printing. This individual is responsible for ensuring that work is being performed accurately and within the necessary time restrictions.
Specific Requirements:
- Checking orders for accuracy before printing
- Printing films
- Burning, cleaning, and reclaiming screens
- Aligning screens before printing
- Mixing inks to specific Pantone colors
- Printing garments
- Post production and boxing of shirts
- Maintaining orders in company software
- Managing and ordering supplies
- Cleaning equipment
- Work in tandem with the Shop Manager to schedule orders
- Assist customers with orders
- Improve processes, techniques, and equipment to help aid in efficiency and effectiveness
- Assist in training additional screen printers as the company grows
- Maintaining equipment
- Other duties as assigned
Physical Requirements:
- This job requires a lot of standing, walking, and cleaning. Employee will also be required to lift no more than 50 pounds.
Qualification Skills:
- Great attention to detail
- Ability to problem solve
- Self starter
- Ability to multitask
- Can work well independently and as part of a team
- Ability to lift up to 50 lbs
- Must be 18 years of age or older
If interested please send resume to info@fabricatedcustoms.com. Resumes are required to be submitted for consideration. Any questions can be directed to info@fabricatedcustoms.com or by calling (517) 526-9008.